In wake of the government's effort to revive the banks from the NPA issue they expressed its desire to merge 10 Public sector banks (PSB) into 4. This move will bring the total no. of banks from 27 to 12.
| | | |
| --- | --- | --- |
| BANKS TO BE MERGED | SOFTWARE USED | SIZE MERGED ENTITY |
| PNB, OBC & United Bank | Finacle by Infosys | 2nd largest |
| Canara Bank & Syndicate Bank | Flex cube by oracle | 4th largest |
| Union Bank, Andhra Bank & Corporation Bank | Finacle by Infosys | 5th largest |
| Indian Bank & Allahabad Bank | BaNCS by TCS | 7th largest |
Creation of some big sized banks will enhance their credit giving capacity.
Make them global ready and help them in getting economies of scale further leading to a strong national presence and global reach of these banks.
Earlier the government has already merged SBI & its associates, Vijaya Bank, Dena Bank & Bank of Baroda which proved out to be a success and it helped these debt trapped banks to rationalise their capital.
Followed by INR 55,000 CR. recapitalisation plan for the merged entity.
Read other blog: Cash Withdrawal of above 1 crore? Deduct TDS under section 194N from Sep 1, 2019
Q. How does this 3 tier system being introduced in banking structure?
1st tier: 3-4 big sized banks
2nd tier: Regional centric banks
3rd tier: Mid-sized lenders/FI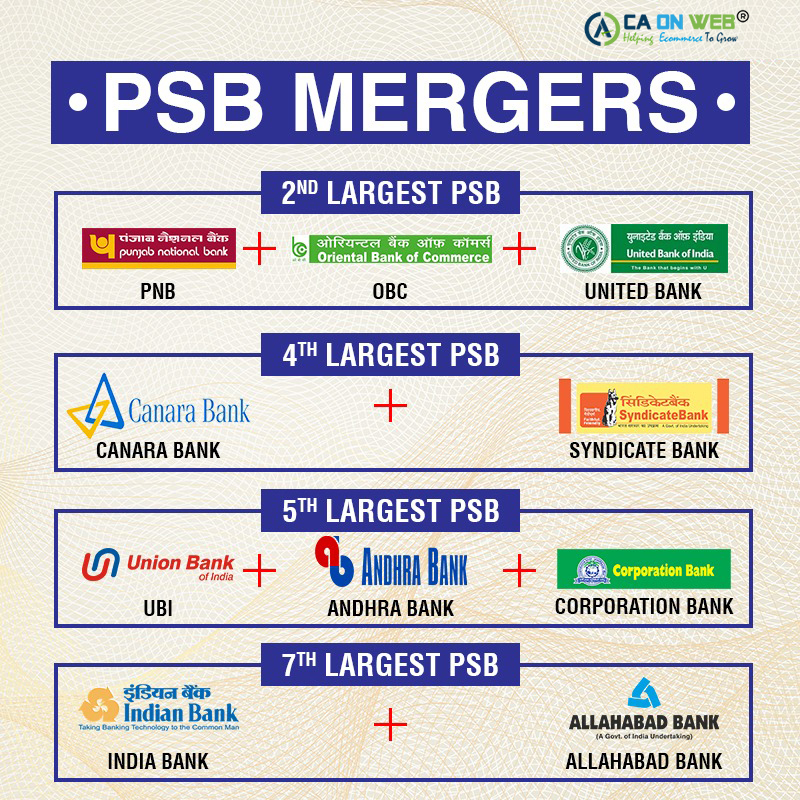 Q. What are the different aspects of this plan?
Creating economies of scale
Expand & Develop the industries
Aspirations to meet $5 trillion economy
Related Blog – All you need to know about Company Registration as a startup
Q. Do they have sufficient heft (invest in tech, customer service, SWOT analysis)?
NO, if we talk specifically about PSB they don't consider investing in better customer service or in technology, this is the reason they lack are running behind their competitors in the market specifically Private sector banks.
Read other blog: Private Limited Company
Q. How did the government arrived at this decision of merging these banks not some other bank?
There are certain key areas which are kept in mind before finalising these mergers.
Customer disruption should be minimal
Credit activity should not get disturbed
Core banking software
Level of NPA's
Geographical Presence
CASA Deposits
Competition
Q. How will this merger improve the performance matrix of these banks?
Any merger has to happen along with other components in it.
Product Innovation
Capitalisation
Continuous Reform
Individual bank analysis
Management structure (CEO selection)
Investment in Technology
Better Backend Process
Get  Import Export Code Online on lowest cost.
Q. How will this merger impact the Indian Economy?
For any economy to grow credit (equity) capacity and capital (debt) both matters. When you want to start a new project you will have to visit many FI, VC to get financing for your project.
For example: SBI recently come up with a new application "YONO" which helps its customers to carry out a card less transactions at ATM. Had it been a small bank with less capital it would not be possible for SBI to take such decision.
Globalised approach: Merged entity will be big in size and it will bring ease of expanding their business abroad.
For example: some of them would like to target European market, African market etc. what kind of products they are going to offer depending on the local factors there.
Q. If you are a businessman/entrepreneur/investor, how to get over these tough times that the Indian Economy is facing?
To get over the tough times that your start up/business is facing because of the low in economy, we at CAONWEB provide you with the most balanced approach to run your business more effectively & efficiently. We provide various services starting from Company registration, Risk management, Annual Filing & any sort of compliance issue you are facing in your business.
Financial Expert Advice in your area is just a click away – https://www.caonweb.com/all-services.php